SPONSOR WERDEN
Ein Communityevent, wie der TeamsCommunityDay oder der TeamsCommunityDay – The Tour, lebt von Unterstützern und Sponsoren.
Deshalb suchen wir euch und eure Unternehmen!
Der TeamsCommunityDay fand das erste Mal 2017 statt und wird von der Community für die Community als nonprofit Event organisiert. Dieses jährlich wiederkehrende Event hat zuletzt am 28. Januar 2021  stattgefunden. Begleitet wird das Event von einer übergreifenden Keynote und Endnote durch den Hauptstandort Köln.
Aktuell haben wir unser Konzept auf eines reines Online-Event umgestellt. Wir hoffen bald wieder unser bisheriges lokales Konzept durchführen zu können. 
KONTAKT 
Wir freuen uns über ihr Interesse Sponsor des TeamsCommunityDay oder des TeamsCommunityDay – The Tour zu werden. 
Bei Interesse kontaktieren Sie uns bitte unter: sponsor@teamscommunityday.de
SPONSOREN 2023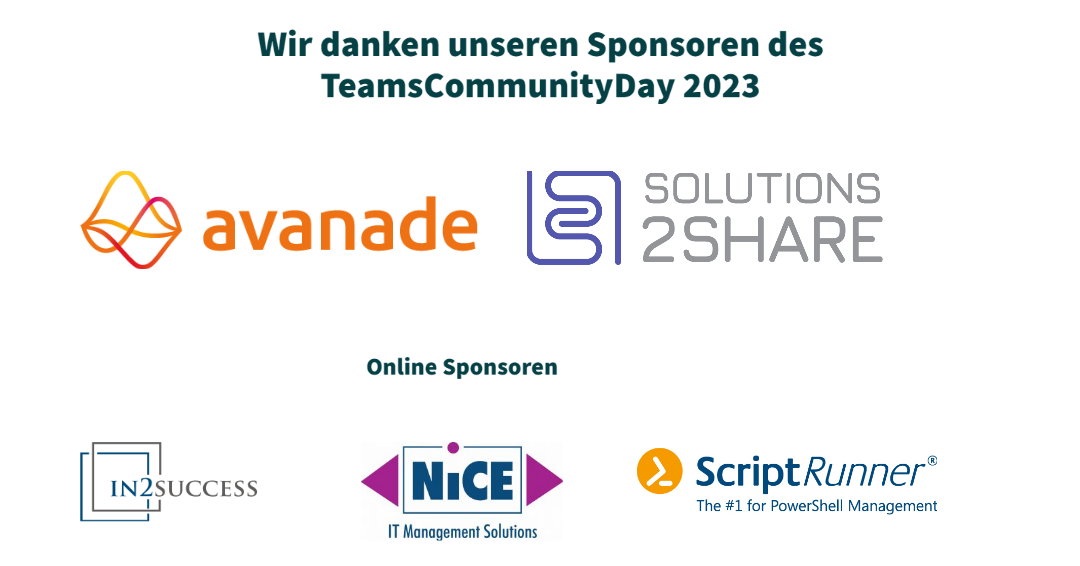 VIELEN DANK AN UNSERE BISHERIGEN SPONSOREN
Wir danken unseren bisherigen Sponsoren für ihre Unterstützung!